The Construction sector grapples with the need to up its sustainability game before 2030.
The drive to be green is growing for many businesses.
A recent survey done by the CMS Group revealed that 44% of respondents suggesting this is 'very' significant, or 48% of respondents indicated this is 'somewhat' significant for their business and the products they market.
How businesses are evolving to meet sustainability objectives involves multiple strategies, from material selection to new product lines, new industry partnerships, and strengthening green messaging in marketing material.
But what sustainability means for a construction business varies dramatically depending on your place in the supply chain and the clients you're supporting.
Industry Insider asked four key companies to discuss what it means to be sustainable in the current marketplace and to take a look into the future.
Improved standards coming
Aidan Jury is Chief Operations Officer of Jennian Homes, one of NZ's leading and most awarded residential building companies.
Jury chairs the residential working group with Master Builders discussing planned legislation and discussing proposed changes coming out of MBie as to how the industry can achieve commitments made by the Government around carbon neutrality for 2030 and then through to 2050.
He says improved building standards are coming one way or the other. It's just a matter of time and the impact of the change.
"For us, it's understanding, and to a degree negotiating with MBie to get the most pragmatic solution for our clients, so that we can still be affordable and we can still keep the sales wheels turning and not pricing our clients out of the market.
"Because the reality between the science and actually what goes on in the marketplace is not always understood by the regulators. Having said that, they've been very good at listening and adapting some of their thinking based on the work groups that we've been driving with them," he says.
Jury is philosophical about sustainability in the residential building sector and says the company pays close attention to its impact on the environment of the homes they build and sell, the materials they use and the building site itself.
"Personally, I take the opinion that I'd rather do it because we should, but not a lot of people think the way I do," he says.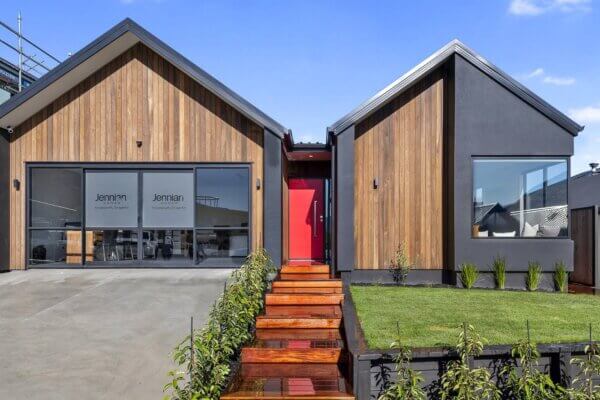 Photo credit: 37 Jack Hanley Drive, Hanley's Farm, Queenstown 
"I don't like a lot of the stock that people are living in. In terms of existing dwellings, there are something like 900,000 roofs in New Zealand that have insufficient insulation. Eventually, you've got to break the cycle."
But Jury adds that impositions like substantially upgraded insulation in roof space, in walls and slabs, and also the thermal properties of the timber joinery, puts a significant extra burden on the new home industry, which is already struggling from a downturn – adding on additional costs that could be anywhere from $18,000 to $30,000 a house.
"If you started with changes in code that had originally been positioned by MBie, then the average cost of a typical home would become substantially almost prohibitive for most people. That's just an example of some people that are well-intentioned, but not understanding the flow-on effect through to actual homes," he says.
But while the challenges of sustainable building include increased costs, Jury says that Jennian is already thinking about the future, giving clients options to pre-wire for photovoltaic tiles into roof space, and also pre-wiring into the garage for an electric vehicle, for example.
And for some clients Jennian is going a step further through partnerships with partners like solarZero, who are funding homeowners into photovoltaic tiles on the roof through to a battery and running a home off renewable energy.
"That might not immediately get a return, but it certainly does over time. Once you get over that capital shock of purchasing or financing the kit, it makes that home very affordable," he says.
And while insulation and carbon use in new builds is top of mind for Jennian, they're not shirking on the need to improve things on the building site as well.
"As a builder, we've tried really hard to drive waste down. Because the level of waste that goes into landfill is unacceptable. Drive around building sites in Auckland, and quite frankly, it's disgusting. 45% of carbon coming out of landfill is coming as a result of construction waste.
"People who have messy building sites and excessive amounts of waste and poor QS and poor metric monitoring just will not have a future, because they will be priced out of the market" he says.
Jury's belief is: don't wait for the regulations – they're going to come, but get started now and be part of the solution.
"We all have to take that responsibility. People want choice, but they also want to know what the return on investment will be.
"If I can say to you, that by spending an extra $2,500 on insulation, your home's going to perform this amount better and the return on investment's going to be repaying itself in a limited number of months, because your energy costs are going to come down, most people will say, "Where do I sign?", he said.
More timber
CMP Construction, a leading player in the New Zealand construction industry, is making waves with its innovative approach to delivering high-quality, sustainable projects.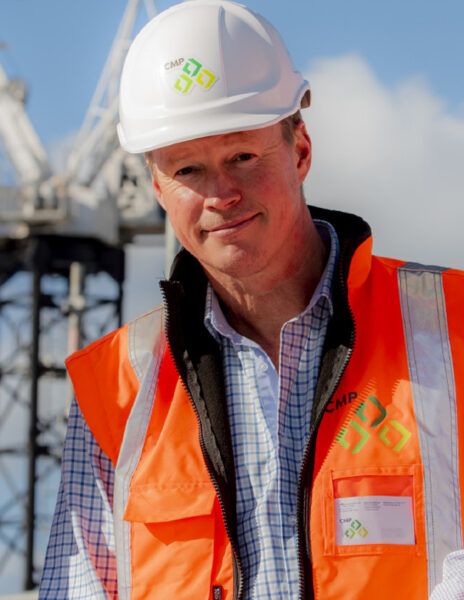 Andrew Moore, Commercial Manager, CMP Construction
Commercial Manager, Andrew Moore says new legislation and new expectations by clients and Council have provided the impetus for some major changes to the way they do business.
"If somebody had said to me five years ago that you'd be building 10-storey, timber-framed buildings, I would have said, "You've got to be joking."
"But here we are now. We've become partner of choice by Kāinga Ora to become their mass timber build partner, where we're trying to rationalize and speed up and bring down the cost of these buildings," he says.
Moore says that while multi-storey, timber-framed buildings are growing in popularity, they're significantly more expensive than concrete and steel construction.
"They have a way better carbon footprint and that is obviously something that the world is striving towards. But the bottom line is, until costs come down, which they will do, we've simply got to pay for it."
Moore says that while Government legislation and working with Kāinga Ora is driving much of the trend towards sustainable building methods, customer demand is also growing.
"A lot of tenants who are moving into office buildings expect them to meet Homestar or Greenstar-type ratings. So, it seems there is an additional buy-in by a lot of corporates these days to become more sustainable. I think that's a good thing," he says.
Moore believes that it is important to position CMP for the coming wave of climate legislation.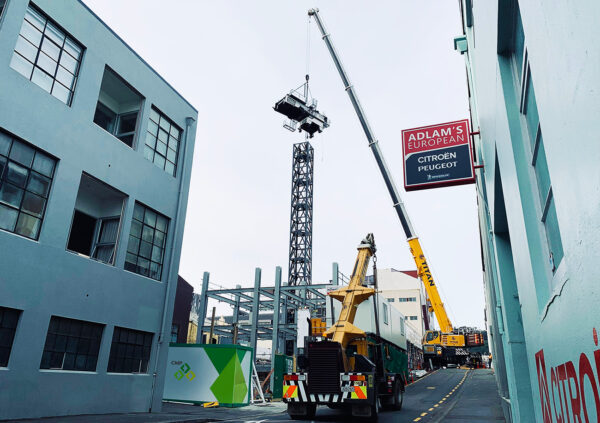 Photo credit: Haining Street Apartment development, CPM Construction
"We know that by 2030, all Government buildings are going to be carbon-neutral. That being the case, it will be mandated to other developers. So, we need to understand how do we become the business that people see as being the expert in that type of construction.
"So, we've upskilled significantly, for instance, on these mass timber buildings. What does concern me though is that we're paying a lot more money for these types of buildings. There's a lot more risk in them with regards to procurement and lead times and to keep all the sequencing right," he says.
The drive to keep costs in check has driven innovation within CMP as to how to speed up construction and improve efficiency throughout their entire supply chain.
"We like to pre-manufacture as many components of the building as possible off the building sites and we're seeing a lot more modular-type construction in our projects. We're fabricating either pre-cast panels or bathroom pods or even hotel rooms off-site, where there are CNC machines and computers that do work out efficiencies and material usage – that creates less waste.
"We're then buying less raw products, the quality is actually better, there's less workers on site, you're not having to worry about providing parking for as many workers on a construction site because most of the work has been done in a factory environment…
"We're finding great efficiencies in that type of construction now," Moore said.
The intermediary role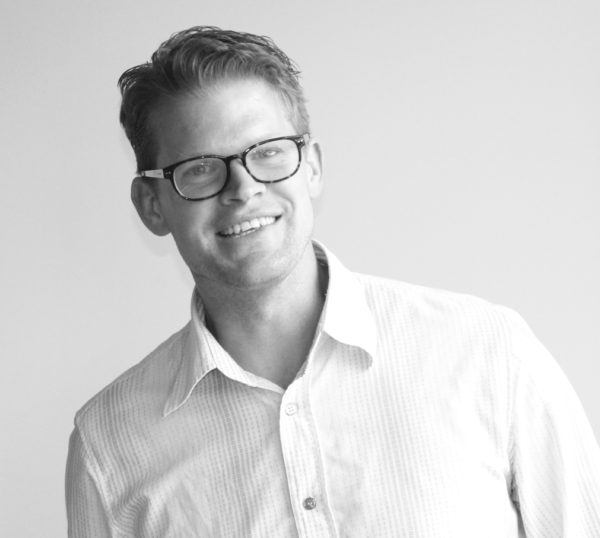 Callum Freeman, Partner, Assemble
Callum Freeman, is partner at Assemble, a technical documentation and services firm that provides modelling and documentation for building design and structure, BIM management, and professional services for the construction sector.
Being a service company Assemble is often the meat in the sandwich between the architect developer and builder. But while they're less able to force any change in materials, they can definitely influence the process.
"If it's a technical question, then the architect will defer to us, or we'll be involved in that discussion. But if it's a design question in terms of aesthetic or the emotion of the project, then that's very much the architect first, and then they'll instruct us," he says.
"Unfortunately for us, as technicians, we can do the measurement and we can give advice, but we can't really affect the heart of the concept of a project," Freeman says.
Assemble recently started measuring the embodied and operational carbon of one of their projects as a trial, and quickly found that concrete performed really badly on a sustainability basis, so the advice was to find a different way to build.
"And those are the understandings that you start seeing once you start measuring. Using different types of concrete or alternative construction systems with less embodied carbon, you can see the difference that makes.
"Because we can do lifecycle assessments and we can find really efficient ways to do that for clients. But as soon as they hear how much more carbon-efficient concrete costs and decide against it, we can't just bail on the project because we disagree with a material choice on a sustainability basis. But we certainly can give them really informed decisions to make," he says.
Freeman says part of the challenge of increasing sustainability in construction is structural, with developers trying to keep costs down to help the product sell in an often rapidly inflating marketplace.
"I think one of the real problems is 'build-to-sell'. A developer builds a building, sells it and it's out of their hands, they don't care about it anymore. There are a lot of easy things we could do to make projects more sustainable over their lifetime. Increasing insulation is an obvious one that costs a little bit upfront, for example, but it'll save you many times that in terms of heating cost over the span of the building. But if you're not going to own a building long-term, then its just not a priority.
"In my opinion, 'Build-to-rent' is better, and 'Build-to-own-and-to-manage' is better again.
"Because from a design point of view, how many building designers really know how well their buildings perform? You design a building, you get it over the line and you have to get it under cost so that the builders will get it built and then whoosh, it's off into the wind. And they might catch up with the client in a year's time if you're lucky.
"But if every year they went and spent a day site visiting all of their old buildings and talking to tenants and getting to know things like: "Oh, that sunlight room – actually, it's too hot", there'd be that feedback loop of designers knowing how their buildings were performing so that they can build better.
"If it was build-to-own and build-to-manage, then those feedback loops would become far more important and they'd actually change how we design buildings."
Freeman says that unfortunately, in New Zealand, we do think quite short-term.
"And that's why we love it when the government leads in the right direction. Because privately, people will tend to do the minimum amount. Anything they do over the minimum is just money out of their pocket. Whereas when the Government mandates it, there's no question and there's no point complaining. Let's just do this the best we can."
Waste less
So, while at the planning and design level, there are certainly conversations being had, at the coal face there are still relatively few interventions that allow a builder or construction firm to make a simple, practical difference to the sustainability of a project.
Marley is one supplier that started to work in this area doing, off-cut and used-product recycling, and has found the demand on the worksite is sufficient to support the initiative and has the potential to grow.
"I think it's key for the sector to see that you've got something you can do that's pragmatic, says Dwayne Carroll, Project Lead, Recycling, at Marley.
"There is a lot of greenwashing out there where things seem to be sustainable, and it can be confusing to know what the right thing to do is. So, you've got to cut through that and just say: what is something practical that you can do yourself, right now?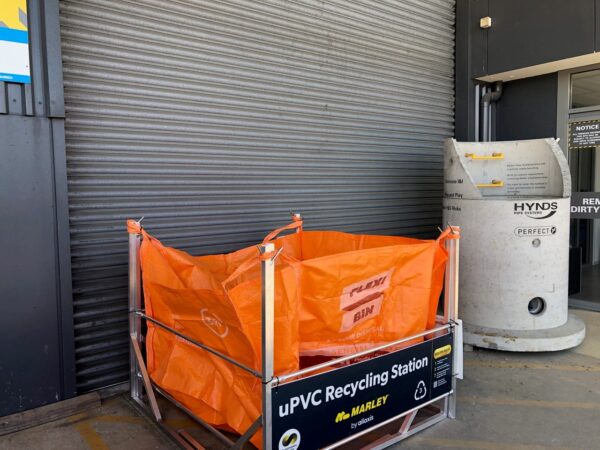 Marley is now using UPVC or HDPE recycled material in new product, working in partnership with Waste Management New Zealand to collect used material and waste material to reconstitute into new pipe. Together they have formed a joint venture to invest in and operate recycling plants in the North Island and South Island.
The company consumed an impressive 625,000 kg of recycled material last year, and their target this year is to double that. "And we're only scratching the surface of what's available to collect and our potential usage of recycled material," Carroll says.
The company started recycled collection on the down-low, dealing directly with individual firms. But in the last two years they've accelerated that dramatically.
"We now have goals around recycled content, goals around energy efficiency and water efficiency, reducing the carbon footprint of our packaging waste to landfill. So, I guess it's been a slow burner in the background and then in the last two years it's been a strategic push to really act sustainably in all areas, he says.
Carroll says the company knew they were only scratching the surface when they weren't having to actively go out to collect the waste, with other users of PVC delivering material to them to recycle.
"We're a pipe manufacturer or a plastics manufacturer, not a waste collector. So that's when we partnered with Waste Management to say, "Hey, we've got an opportunity here for you guys to do collections and we can be the customer." It's been a great partnership."
There's always a cost to somebody in recycling, so where does that cost fall in Marley's recycling model? Carroll believes it should be shared equally.
"As a producer, we want the material, but the economics of using recycled plastic material is heavily dependent on resin prices, sometimes it is favourable and sometimes it isn't, and we want to be a consistent user of recycled material independent of resin prices. There is also always the risk for us in terms of contamination and processing and that type of thing.
"And then there's the cost around collection and sorting, and in my mind, that's to be shared across the industry. If you're creating waste, then ultimately, I think it is right that you take responsibility by paying for the collection of that waste. Depending on the quality of material then it may need to be sorted as well, then yeah, there's a cost there, as well.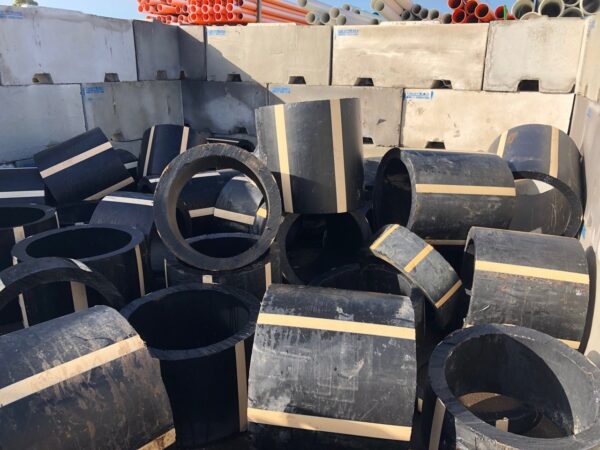 "But at the same time, as a producer, we are very conscious that if we are causing people to create waste, then we should be doing something about it so that waste is not created in the first place, or giving people options that don't include landfill," he says.
And it's not just spouting and drainage pipe being returned to Marley for re-use. There are other products they're taking back, like vinyl records, manufacturing waste, PVC fencing off-cuts, pool covers, and are investigating taking off-cuts from PVC joinery fabricators.
"We're open to anyone who's got UPVC and we've got the capability to say, "Yep, that's compatible with our product. Let's get a collection going and we can put it into our pipe!"
Marley was recently a recipient of a $4.46 million grant from the Plastics Innovation Fund, run by the Ministry for the Environment – one of the first candidates to be successful in that fund. The project will invest over $12.6 million dollars on closing the loop on uPVC and HDPE waste and part of that grant was to fund a partnership with Unitec | Te Pukenga's Environmental Solutions Research Centre to do research into the best way to manage waste on site to minimize waste going to landfill.
"The idea of that research is to actually create an app so that someone on site can take a photo or look at an app and go: What is this product? What is it made from? Where can I recycle it? What can I do with it, so it doesn't go to landfill?
"So there is growing awareness of the need to manage waste on construction sites and having a plan for that waste," he says.
Carroll says it's still early days in the recycling programme, and he's has been encouraged by the support he's received. But the challenge is when it gets down to the site level, making sure that those day-to-day decisions are made to "do the right thing".
"Sometimes people are focused on the cost side of things and saying, "Oh, now my guys have to do more sorting," and that type of thing. But there are benefits in terms of lower waste to landfill costs, and also, you're doing the right thing when you're keeping that material in the loop and it's not going to escape to the environment." Carroll says.